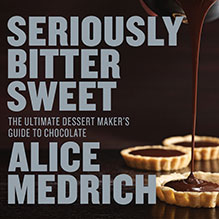 Artisan, 2013
The book is an updated and revised edition of Bittersweet: Recipes and Tales from  a Life in Chocolate (Artisan 2003), which was named the 2004 IACP Cookbook of the Year.
These days people are accustomed to seeing chocolate labeled 54%, 61%, or 72% on grocery store shelves, but some most bakers are still confused by what the labeling means and how to use it. Seriously Bitter Sweet presents 150 meticulously tested, seriously delicious recipes—both savory and sweet—for a wide range of percentage chocolates. "Chocolate notes" appear alongside, so readers can further adapt any recipe using the percentage chocolate on hand. With tricks, techniques, and answers to every chocolate question, Seriously Bitter Sweet will appeal to a whole new audience of chocolate lovers.
Between chapters, I also tell my story—my first taste of bittersweet chocolate, the opening and eventual sale of Cocolat, my first and second cookbooks, my work on the 1997 new Joy of Cooking, the early years of Scharffen Berger Chocolate, and everything in between. Even if you skip the stories, you still get the first book ever published in this country with recipes for cacao nibs, the first and only explanation and manual for using different percentage chocolates in baking and desserts, and one of the best explanations of tempering with instructions for nonscientists. This is a book for everyone passionate about chocolate.